Coronavirus (COVID-19) Statement
We continue to closely monitor the situation surrounding the COVID-19 pandemic and are following the published recommendations of the CDC and the Kansas Department of Health.
Beginning May 4, the Women's Healthcare Group will begin seeing patients with non-urgent medical conditions.We remain focused on the health and safety of our patients and staff, and on avoiding further spread of the virus through the implementation of the following protocols:
All patients will be required to wear a mask or face covering to their appointment.
One visitor and children are allowed to accompany a patient to their appointment.
Temperature checks will occur upon check-in for your appointment.
Plexiglass shields have been installed at our check-in and check-out counters.
All staff and providers will continue to wear masks.
We are rigorously disinfecting highly used surfaces.
Our waiting room is set up for social distancing with chairs separated by 6+ feet.
If you have an upcoming visit and identify with the following statements, please call us to reschedule.
Have fever, cough, shortness of breath, fatigue, or loss of sense of smell or taste
Exposed to someone with COVID-19 in the past 14 days
Placed in self/hospital quarantine by medical doctor
Recent travel by you or family to communities with high numbers of infected patients
Please note that routine refill requests may not be fulfilled until the end of the following business day. If your refill is requested on Friday, it may not be fulfilled until Monday. We apologize for any inconvenience.
Thank you for yourcommitment to safety as well. We look forward to seeing you soon!
We Offer Telemedicine Visits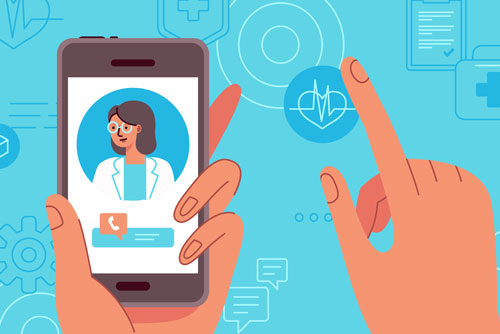 Follow these easy steps for a Telemedicine appointment
Call (913) 541-0990 (option 1) to schedule
We provide an appointment time and

doxy.me

web address via text (or email if no cell phone)
Any browser works except Internet Explorer
Use a device with a camera and microphone
Click on the provided

doxy.me

link
Enable the microphone and video on your device
If you are early, your clinician's name and "offline" notice will be displayed
Wait 10 minutes as clinician may be running late
Call (913) 541-0990 (option 1) if experiencing longer than 10 minute wait time
The message function only works when the clinician is connected
Ending the session to call us about long wait will not lose your appointment time