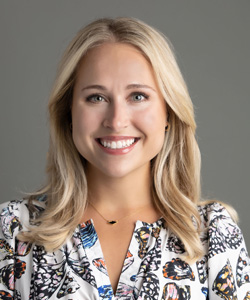 Education
Creighton University, BS Biology – 2014
Kansas University School of Medicine – 2018
University of Missouri – Kansas City – Residency in Obstetrics and Gynecology – 2022
Dr. Dempsey's Office Hours
Monday
Tuesday
Thursday
Friday
About Elizabeth
I decided at an early age to follow in my parent's footsteps after witnessing how fulfilled they were with their careers as physicians in Topeka, Kansas. As a Kansas native, I already had a deep appreciation for this area and the people, and that appreciation has continued to grow over the time I've spent completing my medical degree from the University of Kansas School of Medicine and residency at the University of Missouri – Kansas City. I am thrilled to settle in the area with my husband, Wes, and begin giving back to a community that has offered so much since my childhood.
My first experiences with obstetrics and gynecology came from watching my mother, an OB/GYN, as she managed her patients through various life stages like pregnancy and menopause. I loved that she was a consistent and present resource during those significant life events, and I look forward to building relationships and providing that same continuity of care with my own patients.
Over the course of my medical education, I have been heavily involved in resident teaching and research. I enjoy both aspects because it pushes me to be very knowledgeable and sharpens my ability to convey information in an understandable and concise manner. I similarly strive to educate my patients with information that enables them to experience their own discovery and take ownership of their health journey across the many stages of development from adolescence to adulthood.
In my free time, I enjoy traveling, painting, and walking our dogs. I'm also extremely fond of cooking and sewing, both skills I learned from my retired Home Economics teacher grandmother. I believe it was my time spent practicing with my grandma that sharpened my fine motor skills at a young age and effectively prepared me for a clinical and surgical specialty of care.