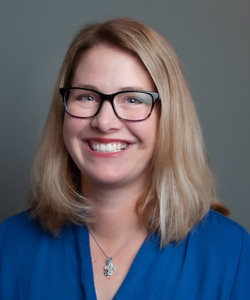 Education
Saint Luke's College of Nursing BSN, 1998
University of Kansas Medical Center, School of Nursing MSN, 2002
University of Kansas Medical Center, Nurse Midwifery Education Program CNM, 2002
Jeane Ward's Office Hours
Monday
Wednesday
Thursday
Friday
About Jeane
I have been practicing in Overland Park since 2002. My various practice experiences have brought me to value the practice philosophy at The Women's Healthcare Group. I really enjoy the physicians and nurse midwives that I have the privilege of working with every day. We truly are a team.
My fascination with pregnancy and birth began at a young age. I honestly remember my dolls having babies with calculated due dates. I love all aspects of women's health from gynecology to pregnancy and delivery. I try to always listen to women and really hear what they are telling me. I want them to feel comfortable talking openly with me about all of their concerns.
I chose to become a Certified Nurse Midwife because I love the education side of my job. I truly believe that if you teach and empower women to make healthy nutritional and lifestyle choices that it improves outcomes in all aspects of their lives.
I definitely am a birth junkie. It is such a thrill to bring babies into waiting arms for the first time. I love helping couples through the birth process with respect and choice.
My husband Nathan and I live in south Overland Park with our three young children. They keep me busy with all of their sports and activities.