Emily Bauer Holthus, M.D.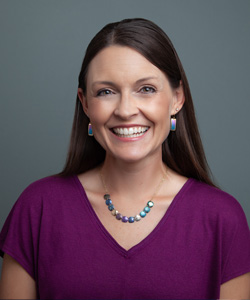 Education
Southwestern College, B.S. in Biochemistry– 2003
University of Kansas School of Medicine– 2007
Texas A&M Health Science Center-Scott and White Memorial Hospital– residency in OB/GYN- 2007-2011
Dr. Holthus's Office Hours
Monday
Tuesday
Wednesday
Friday
About Emily
I grew up in Great Bend, KS in a medical family. My grandfather was a physician, and my mother is a nurse practitioner. I knew in high school that I wanted to be a doctor. I shadowed the pediatrician where my mom worked. My Sunday school teacher was a surgeon and hired me as an assistant during my summer vacations.
While majoring in biochemistry at college in Winfield, KS, I met my husband, Brian. We moved to Kansas City where I attended University of Kansas School of Medicine. I did not initially decide to be an OB/GYN, but I was quickly enticed by it due to the continuity of care. I enjoy building relationships with my patients, from their first gynecological exam through pregnancy and future life changes. Brian and I moved to Temple, TX for my OB/GYN residency at Scott and White Memorial Hospital. There I received a comprehensive gynecologic surgery experience, including advanced laparoscopy and vaginal surgery, and I cared for high-risk obstetric patients.
In 2011, I was delighted to return to Kansas to work with The Women's Healthcare Group. I was attracted to the practice because of the collaborative, supportive environment that ensures all aspects of women's healthcare are addressed. I also loved returning to Kansas to be near family. My husband and I are the proud parents of two beautiful daughters, Lillian and Cora. We love spending time near water, whether oceans, lakes, or pools, and we enjoy visiting parks. In my spare time I love reading light-hearted books that make me laugh out loud: Janet Evanovich is a riot.
As a female physician and care provider of women, it is important to me to create trusting, long-term relationships with my patients. Building trust means my patients feel comfortable asking questions and participating in decision-making processes about their care.