Michael Proffitt, M.D. – Emeritus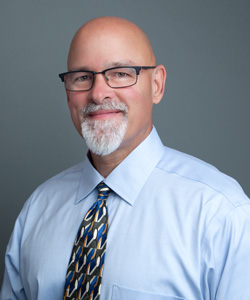 Education
Wittenberg University, B.A.–1984
University of Louisville, Pre-Med–1995
Vanderbilt University School of Medicine–1999
Wright State University School of Medicine, residency training–1999-2003
Wright Patterson Air Force Base, administrative chief resident, OB/GYN combined program
Dr. Proffitt's Office Hours
Monday
Tuesday
Wednesday
Friday
About Mike
I was born and raised in the small town of Van Wert, OH. I obtained my undergraduate degree from Wittenberg University on a business scholarship. After working for nearly ten years in business, I experienced medicine from a very personal perspective – as a parent at my own child's bedside. This experience motivated me to pursue medicine as a career, and I feel it has made me a more caring physician.
I received my degree in medicine from Vanderbilt University in 1999 where I graduated first in my class, and was voted as the graduate that fellow classmates would most like to have as their own personal physician. I completed my residency at Wright State University, where I was co-administrative chief with Dr. Moulton, and received the John J. Halki Exemplary-Physician award.
After residency, I served in the Air Force as staff OB/GYN at the U.S. Air Force Academy in Colorado Springs, and at Wilford Hall Medical Center in San Antonio. I also held a faculty teaching position at the Uniformed Health Sciences University School of Medicine, and was appointed by the Air Force Surgeon General to serve on a national healthcare committee. I am board certified by the American Board of Obstetrics and Gynecology.
I joined The Women's Health Care Group in 2007 after completing my Air Force commitment. My practice consists of general office and surgical gynecology, treatment of urinary incontinence, and obstetrics. There are more treatment options available today than ever before, and I enjoy working closely with my patients to explore all options. I am a good communicator, and it is important to me that patients understand their healthcare decisions.
Outside of work, I live in Leawood with my wife, Barbara, and my three children, Alex, Lindsey, and Ben. My personal time is largely spent with family activities and attending my children's multitude of sporting events. My wife is an avid runner, and we all love snow skiing. We love living in Kansas City and plan to stay here for the remainder of my career.