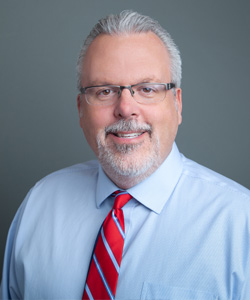 Education
University of Missouri-Kansas City, B.S. in Biology-1991
University of Health Sciences in Kansas City, MO-Doctor of Osteopathic Medicine-1999
Wright State University, Dayton, OH, residency in OB/GYN-2003
Dr. Moulton's Office Hours
Monday
Wednesday
Thursday
Friday
About Tony
Dr. Moulton was raised in Manhattan, KS and attended University of Missouri-KC for his undergraduate degree. He graduated from Kansas City University Medical School, then completed his residency in obstetrics and gynecology at Wright State University School of Medicine in Dayton, OH.
Having married his high school sweetheart, Pam, both were delighted to return to Kansas to raise their two children after his residency. He has been practicing with The Women's Healthcare Group since 2003 and is a board-certified obstetrician and gynecologist. His patients describe him as dedicated and personable, which enables him to build enduring relationships throughout their changing life stages, from obstetrical through menopausal care.
For over 10 years, Dr. Moulton has acted as department chair of Obstetrics and Gynecology at Kansas City University Medical School. He enjoys teaching medical students who will be the next generation of doctors. As a physician and teacher, he is committed to educating his patients for them to be involved in all decisions. His goal is to provide the highest quality of care to patients while ensuring patients understand their options.
Dr. Mouton enjoys the varied aspects of women's healthcare. He feels privileged to witness a miracle every time he delivers a baby and feels that first breath in his hands. He also has interest in advanced laparoscopy, gynecologic surgeries, and urinary incontinence. He has extensive experience with minimally invasive robotic surgery, and he has completed over 500 robotic surgeries and innumerable other procedures for situations such as abnormal uterine bleeding, incontinence, prolapse, endometriosis, ovarian cysts, tubal ligations, pelvic reconstructive surgery, etc.
In his free time, Dr. Moulton likes to spend time with his wife, his children, and his friends.